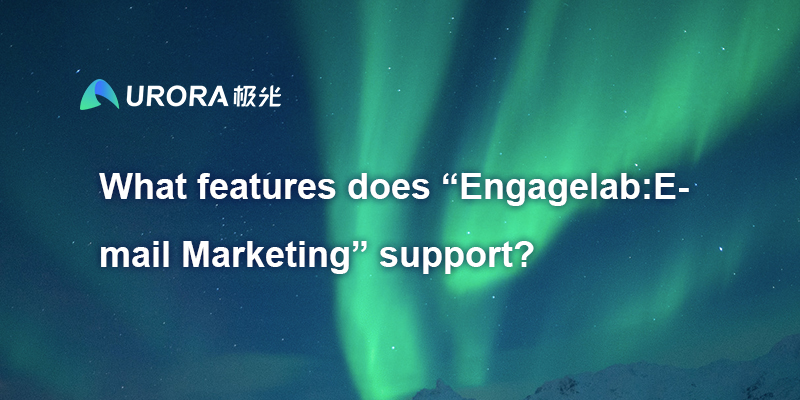 The "2022 Global Messaging Engagement Report" released by Sendgrid reveals which way users around the world prefer to interact with brands,The conclusion: "Email is still No. 1 (text messages are not far behind)".Among more than 4,800 respondents,18% cite email as one of the top three channels they use most;77% of recipients refresh their inbox at least once a day; 31% of recipients check their emails 2-5 times a day to make sure they don't miss any important information or brand discounts...

For marketing emails, one more copy is delivered, maybe one more customer! Therefore, how to get emails into the inbox is a problem that every marketer needs to face.
As a leading provider of customer interaction and marketing technology services, EngageLab provides stable and efficient email sending services for marketers.
You can find Engagelab: Email Marketing in shopify's app store or visit https://apps.shopify.com/engagelab-email-marketingand install it..After successful installation, you will receive a free email sending plan that allows you to send 2,500 emails to 250 subscribers every month.Features include: email sending, drag-and-drop email editor, email templates, warm-up sending, A/B testing, simple automation, personalized unsubscribe page,and more.


Campaigns
---
You can create email marketing tasks in Campaigns.
An effective contact list is a prerequisite for the success of your email marketing campaign.The recipients in the Campaigns are from Shopify - Customers, and the email subscription status is "Subscribed".You can classify subscribers through Shopify. The significance of this is to push marketing information to more accurate audience groups, thereby saving marketing costs and maximizing marketing effects.
If your email contains hyperlinks and the landing page supports Google Analytics, you can turn on Google Analytics Tracking.
If you want to improve the delivery rate of emails such as gmail and yahoo, and reduce the failure of emails returning over quota, it is recommended to turn on Warm Up Sending.Until you have established a good reputation with your email provider, even high-quality subscriptions that send large amounts of content in a short period of time will be rejected or flagged as spammers. Therefore, it is necessary to control the sending rate and gradually increase the sending volume to avoid such problems.
After creating the send task, you can view the report on the Campaigns page.
Report will show you the sending progress and related data of a certain task.
Templates
---
Email content is crucial to email marketing, it must be interesting, practical and readable to effectively increase recipient engagement.
However, writing emails using HTML design is a difficult point recognized by the industry, and there are too many syntax compatibility to consider, which brings a lot of troubles to the design work.
For example: avoid using div tags when designing emails, and use table tags instead to ensure that most email clients can display the content correctly; set the width to 600px to ensure that the email can adapt to the screen size of all email service providers; use standard fonts , because some clients do not support font abbreviations; avoid pure picture email content, because some email clients will actively block pictures in unfamiliar emails...
Therefore, if the email template can be used flexibly, it will not only save a lot of time, but also improve the professionalism and consistency of the email.
Now, you can not only apply a variety of exquisite email templates in Engagelab, but also use the drag-and-drop email creation tool, which can help you handle various tedious specifications in email production, and easily complete the design and production of emails.
Setting
---
We will provide a public sending domain and use this domain to create a default sender, which you can use directly.
The purpose of configuring a domain is to complete email authentication (Email Authentication), which is very helpful for the receiver to verify the identity of the sender. It can not only reduce the risk of others impersonating your domain, but also keep your mail away from the junk mail folder.
For example, when the recipient receives an email from Engagelab, they will query Engagelab's SPF, DKIM, and DMARC records. If there is no record or the source of the email does not match the information in the record, it means that the sender of the email has not Authorized by Engagelab, the recipient will reject this email.
If you have completed the account upgrade, you can also add and configure your own domain and sender name in the Settings, which will keep your emails consistent with the domain of the main site, thereby improving brand reputation .
When adding your own sending domain, you need to configure SPF, MX, DKIM, and DMARC records on the DNS server of the domain to ensure the quality of mail sending, smooth receiving service and FBL feedback loop.
Once you've done the above, you're ready to add senders with your verified domain. In campaign creation of email marketing, you can choose this sender to send emails.
Also, you can personalize the unsubscribe page in Settings to maintain brand consistency.